HOME - SEARCH - ARCHIVES - GALLERY - LINKS - BANNERS - EMAIL

---
December 21, 1998
---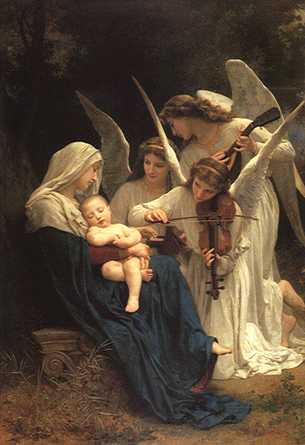 Angels
Angels are a perfect seasonal example of my theory. Sure they are beautiful, but they are beautiful because they are a mix of morality and female sexuality.
In fact, ALL female beauty is the result of mixing female sexuality with morality.
Angels, however are unique. So far, most of the examples of beauty I've referred to are the result of adding a moral element to an obviously sexual woman, for example: glamourous female nudes. But in the case of angels it works the other way around: their beauty comes from the addition of female sexuality to an unquestionably moral being.
If you are having trouble seeing the female sexual component in the angels above, remember that in the Bible, the angels were always men: Gabriel, Raphael, Michael, Lucifer.
Actually, according to scripture, angels were neither male nor female, but those Biblical authors who refer to them couldn't help seeing them as either male or female. I suppose an asexual being was inconceivable to them.
In either case the invention of a female angel is just that - an invention. An exquisitely beautiful invention. They were always awesome creatures, but it took female sexuality to make them beautiful.
© 1998 by Dwаynе Bеll
Feedback: dbell@bodyinmind.com

HOME - SEARCH - ARCHIVES - GALLERY - LINKS - BANNERS - EMAIL