HOME - SEARCH - ARCHIVE - GALLERY - LINKS - BANNERS - EMAIL

---
---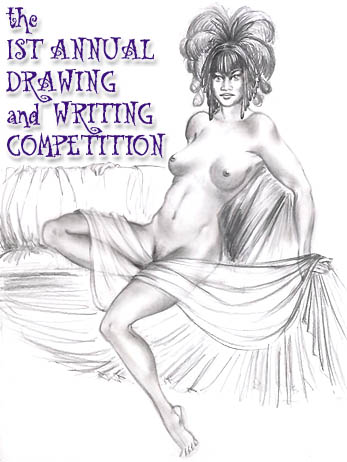 © 2000 by Kеrrіе Lаrоsа
Yes it's finally here! The much anticipated 1st Annυаl Bоdy in Mіnd Drаwіng & Wrіtіng Cоntеst! Already it promises to be the best one yet!;) Check out some of the early entries by clicking on the CONTEST icon at the top of the page.
Send me your beautiful women, er, I mean your drawings of and/or odes to beautiful women. In fact, send me your ideas of the MOST beautiful woman in the world. That's the theme for this year's contest.
For 3 years now I've been telling you who the most beautiful women in the world are. Now it's your turn to tell me, in pictures, or in words. Move me with your pencil work, send me with your prose. I want to be convinced! It doesn't matter if "THE MOST BEAUTIFUL WOMAN IN THE WORLD!" is your lost love, a supermodel you've got plastered on your wall, or a centerfold under you mattress. Hell, she can be your mother! Whoever YOU think is beautiful and deserves a tribute in graphite or ink.
There will be 2 prizes awarded. One for the very best drawing, and one for the most elloquent essay. Just remember that I will be the one and only judge and I can be swayed shameslessly by my own taste in beauty, so be forwarned.
The prize for both contests is an all-expenses paid mailing of a genuine, highly coveted Body in Mind sweatshirt. Ooooh ahhhh! Beveled embroidery. Deep cotton warmth. Two arms and a hole for your head. The works. I will also dedicate a page each to both winners on which to permanently showcase their winning works.
The contest will end when I say it's over, probably around the end of November, or whenever I get the sweatshirts back from the embroiderer, whichever comes first. Simply email me the files of your work.
I know there's a lot of talented people out there reading my page, and I think this contest will be a good way to get to know each other and share our unique view of female beauty as one of the most glorious things on earth.
But, hey, sweatshirts are neat too.
© 2000 by Dwаynе Bеll
---
To see the entries so far, click here.
---
Feedback: dbell@bodyinmind.com

HOME - SEARCH - ARCHIVE - GALLERY - LINKS - BANNERS - EMAIL