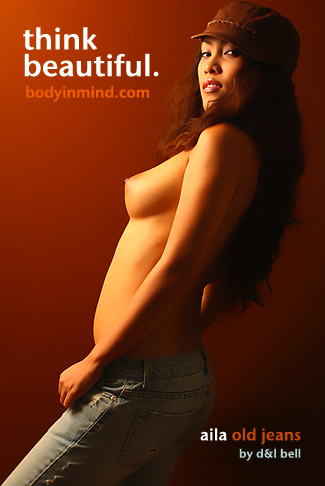 DarrylS says

on Wed, Sep 30, 2009 at 17:42:52
WOW! hot shoot! Great model! Great curves! look forward to seeing more photoshoots of her in the future. Never tire of seeing a topless model in unbuttoned jeans! Love the slightly see thru top also!
NEW! Add comments
Aila Jeans
69 Super Size photos of Aila by Dwayne & Leanne Bell
Added September 17, 2009
What is about a pair of old jeans that makes a beautiful woman that much more alluring? It can't just be because the jeans hug her rear end so perfectly, or accentuate her jutting hipbones, although these things certainly can be beautiful. When we were styling this photo shoot with the lovely Aila in Chicago recently, we could have made a hundred different choices - we could have put her in bikini bottoms to show off her curves, we could have shot the whole thing fully nude to call attention to her beautiful skin and gorgeous shape. But when she tugged on a pair of her favorite old jeans, we knew we had found the perfect look. A pair of faded jeans, well loved and well worn in, reminds us that a woman can be comfortable in her beauty in an every day way, removed from the hot lights and equipment of a photo studio. We're reminded that even though the photographer goes to great lengths to create the perfect look, the perfect makeup, the perfect hair, that at the end of the day it's the model's everyday beauty, her walking-around charm, that enchants us the most.
Photo Sizes: small | medium | large | extra