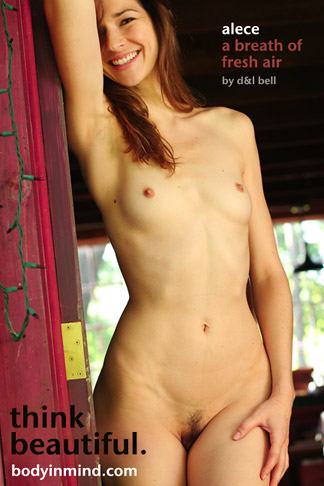 JamesESnyder says

on Wed, Mar 14, 2012 at 12:57:37
What a lovely and elucidating encomium for female beauty Mr. & Mrs. Bell! In my mind your work stands head and shoulders above the deluge of other artists expressly because you able to represent, in every glowing smile and pose of your models, the values you believe in. Don't ever stop.
NEW! Add comments
Alece A Breath Of Fresh Air
90 Poster Size photos of Alece by D & L Bell
Added March 14, 2012
Being able to perceive, appreciate, and admire the beauty of a woman is something that is earned. It involves a lot of work, but is probably the most exciting journey in life. Once we discover the beauty of our dream woman, we discover our own beauty. The beauty of a woman is a reminder of our choices, a spiritual process in which we see our own true selves. Admiration does not necessarily lead to love, and does not necessarily lead to a desire to possess. It is a process in which we see the actions of a woman or the poses of a model and associate them with things that we personally know. The meanings of those actions or poses may not always be perceived by the woman whose beauty we admire: it is a personal experience more than anything. Perceiving the beauty of a woman requires you to be able to perceive your OWN beauty and the beauty in everything. You are required to filter out the trash-talk commonly employed by beauty-haters in an attempt to hide that beauty. The beauty industry is supposed to be about the women who reject that talk, about supermodels and people who have positive aspirations and can project them. But it does not always work that way due to the beliefs of those involved. Many are uncomfortable with what beauty represents, and many women bury their beauty in nonsense-talk about how meaningless or ridiculous it is. But a woman who rejects that kind of talk is truly inspiring, truly beautiful. Hers is the ultimate achievement in beauty, and appreciating her, is yours.
Photo Sizes: small | medium | large | extra