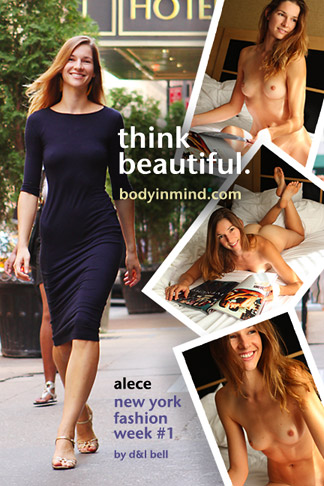 Danny says

on Sat, Aug 17, 2013 at 19:46:49
Oh! I LOVE this set! Alece is such an effortlessly and naturally beautiful woman who manages to project an adorable girl-next-door-if-you're-really-lucky feeling. She's exciting and comfortable at the same time. And it's so rare to be able find a series of photographs of a beautiful woman going around in crowded public places just doing things dressed in comfortable looking, elegantly sexy clothing. D & L Bell, you two are to be congratulated for coming up with the idea, teaming up with Alece, and bringing it to fruition. I'd really like to see similar sets with several different women of your acquaintance. I bet Cat would be up for it! And then, after her downtown adventure, Cat goes home and disrobes in her playful style. Mmmm, I'm getting shivers just thinking about it!
NEW! Add comments
Alece Fashion Week1
101 Poster Size photos of Alece by D & L Bell
Added October 25, 2010
We followed Alece around during New York Fashion week recently and discovered she's as beautiful on the inside as the outside. There are a lot of beautiful women in New York at any time, but during fashion week they come from all over the world. In fact, we were also scheduled to meet with one of the most famous internet models that week, but she didn't like the idea of walking around New York. We later discovered that she hates nude modeling and is ready to leave the business. Alece on the other hand is brand new to nude modeling and was up for anything we suggested. We learned then that nude models come in two types: hypocrites who think it's immoral but do it anyway, and those like Alece, who think the human body is truly beautiful and good. New York was full of gorgeous women that week, but we think we got to hang out with the most beautiful one of all.
Photo Sizes: small | medium | large | extra