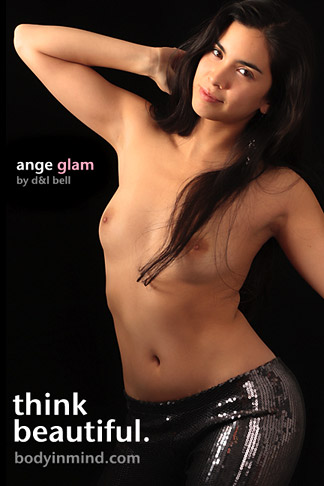 Darryl says

on Mon, May 3, 2010 at 22:05:48
Great photosets of Ange! Her beauty, smile, and enthusiasm are making her one of my favorite models. Really looking forward to the next set!
NEW! Add comments
Ange Glam
130 Poster Size photos of Ange by D & L Bell
Added April 28, 2010
We men love to see women completely naked. It's how we connect with our natural side, our sexual side, and our feminine side. Nude women make us want to be naked with them. They arouse us certainly, but they also make us want to take care of them. But there is more to we humans than what mother nature gave us. We also have volition, which means, we can choose to use our brains if we want to. We can discover patterns in the way the universe works, we can shape our surroundings and ourselves to make us - and it - better. We can even use it to improve images of nude women. If we can get the model to smile, or be happy, or to pose as we'd like, or if we throw in an outfit, a prop, or a certain setting then we have improved it. Making women more beautiful by making them more appealing to our minds is called glamour. Not only is there a place for glamour in nude photos, it's impossible to make one beautiful without it.
Photo Sizes: small | medium | large | extra