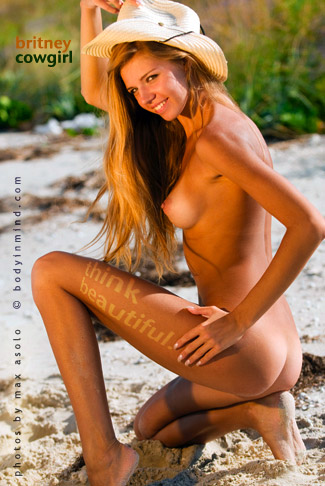 halopalm says

on Mon, Jan 17, 2011 at 0:47:24
Super model of 2009 year, the specimen of next-door-type girl. Britney inspires the young & lovely sensation by nature. She also releases the drooly & sexy desire by nudity. This mixture makes her very precious to me.
NEW! Add comments
Britney Cowgirl
180 Super Size photos of Britney by Max Asolo
Added May 22, 2009
We think the love we men have for beautiful naked ladies in silly getups like cowboy clothes, indian headresses, police uniforms, etc is that we like to put interesting things into a picture next to a nude woman simply because it's so nice to see these things pale in comparison to the female form. We put them in to distract ourselves from the lady's wonderful body precisely because it's nice to see them fail so miserably. There are not many things more interesting than a beautiful nude woman, and somehow, by trying to find something that is, and sometimes trying very hard, it serves to remind us just how exceptionally interesting female beauty really is. And by being so interesting, we start to see that a lady posing nude is just as important to a human civilization as men who work hard, as men who enrich the human spirit, and as men who keep us safe. That enriches our experience of her beauty, and that enriches ourselves and our world.
Photo Sizes: small | medium | large | extra