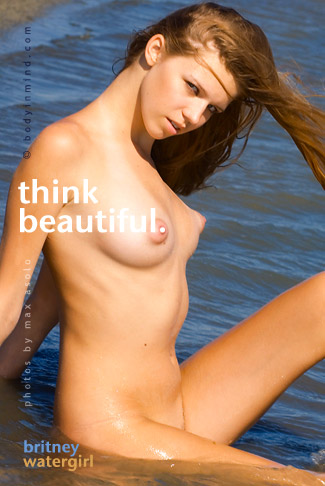 Mark says

on Tue, Aug 10, 2010 at 1:11:33
She reminds me a lot of Eufrat E. aka Jane, I think. Her face and breasts have similar features. I'm suprised I haven't seen Eufrat on BiM yet. She has been on other soft nude sites before, that Britney also has been on. To bad that she had moved to the more hardcore stuff. It took the innocence out of her. I also liked when Eufrat firt started modeling, and she had a more plump look. Anyway, sorry to get off topic, Britney is definatly a petite goddess.
NEW! Add comments
Britney Watergirl
117 Super Size photos of Britney by Max Asolo
Added December 14, 2008
If you like Body in Mind photos of Britney you're going to love our new videos of her. We know a lot of pay sites feature videos of beautiful young women frolicking around completely nude, but we have been holding out for videos that have the same spirit as our photos and it has been a long wait. It seems the hardest thing in the world for a male photographer to shoot a naked girl without getting distracted by her obvious sexual charms. You usually end up with a video that is way too focussed on sex and forgets all about the beauty of the woman. And since Body in Mind is about this beauty, and features only nude photography that manages to capture it, we didn't think it was right to compromise on video. So we didn't. And we haven't. At last we can say "Coming soon on Body in Mind, videos, all the beauty, without the sex".
Photo Sizes: small | medium | large | extra