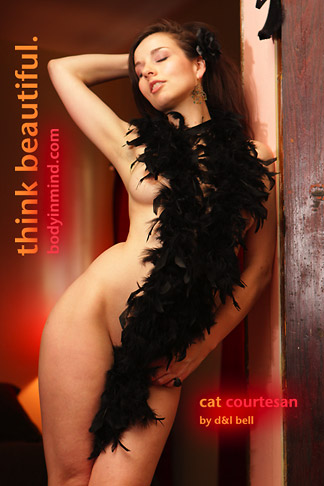 Wanderlust says

on Sun, Oct 9, 2011 at 21:14:55
Another fine set with Cat. Something about the set made me think it was a part of the New Orleans sets. Really enjoyed the costumes, her earrings and her accessories. The courtesan theme seemed in tune with Cat's Harem set and certainly seems like an interesting concept. With Geisha's in Japan, Mata Hari in France and women entertainers throughout history - be they belly dancers, exotic egyptian girls serving the pharoahs or contemporary dancers with lights, halos and scarves - it certainly allows for plenty of themes to explore.
NEW! Add comments
Cat Courtesan
141 Poster Size photos of Cat by D & L Bell
Added October 3, 2011
British sociologist Catherine Hakim has written a book entitled "Honey Money: The Power of Erotic Capital" in which she states that 'erotic capital' can be as useful to a woman as a university degree and that women have been conditioned not to exploit their attractiveness for personal gain. She defines erotic capital as a "nebulous but crucial combination of beauty, sex appeal, skills of self-presentation and social skills" which, if women were only brave enough to use, would put them well ahead of men in the workplace. She also blames radical feminists who "restrict women's ability to benefit from their one major advantage over men, and...humiliate women who gain money or status through such activities." Apart from the fact that we've been saying this for years, it's refreshing to hear someone else describe beauty as a valuable asset that someone should be able to use to her advantage. We've always known that a woman's allure can be a talent worth capitalizing on, just as the gorgeous courtesans of the last century knew, and while were in New Orleans we were happy to give Cat the task of demonstrating what that might have looked like.
Photo Sizes: small | medium | large | extra