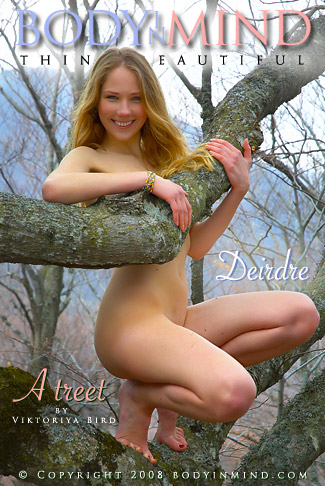 CanadinSteve says

on Sat, Nov 22, 2008 at 22:47:49
Wow Deirdre is by far, the most amazing model I have ever laid eyes on! Always smiling and hard nipples that make me dreamy eyed. I have never seen someone so happy to be nude for me and I have been to met art and femjoy as a member. Thank you from the bottom of my heart please much more Deirdre "I have been ruined for all other woman lol.
NEW! Add comments
Deirdre Treet
79 Super Size photos of Deirdre by Viktoriya Bird
Added April 20, 2008
Beauty is not the same thing as decoration. Decoration is something you put on things that by themselves are not beautiful. For example a cake, or a dance hall. A beautiful woman, therefore, should never be decorated - no jewellery, no nail paint, no tattoos. This is because beautiful women are the decoration of the world, and as soon as you decorate them, our attention is drawn away from the aesthetic harmony between woman and the world and is focused on her bracelets, or her lingerie, or anything else used to decorate her. But when a woman like Deirdre is stripped of all decoration, then we see her true beauty, without distraction, and a barren spring morning becomes beautiful.
Photo Sizes: small | medium | large | extra