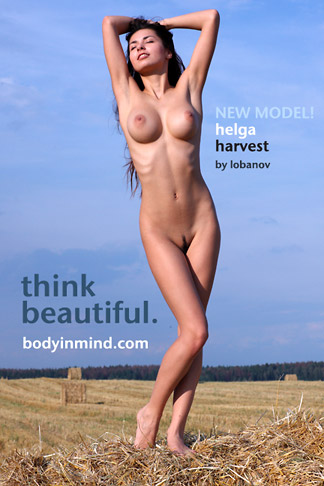 Lars says

on Sat, Feb 21, 2015 at 22:24:36
What a hot lovely lean yet sultry and curvy figure Helga shows! Her cute breasts are a thrill, and her long legs, fine torso, and all looks so pretty! Her little black bush is a real plus too, so sexy!
NEW! Add comments
Helga Harvest
129 Poster Size photos of Helga by Alexander Lobanov
Added September 10, 2012
The Republicans' new very public assault on porn is the first we've seen or heard from them on the subject in many years. It is neither dangerous nor credible and all it will accomplish is to inspire the media to dig up dirt in the sex lives of Republican politicos. However, what is significant is that the attack on porn comes at exactly the same time as the unprecedented attacks on the most innocent forms of female sexuality we have begun to witness in our culture. For example songwriter and performer Katy Perry was recently attacked in the media for wearing a butterfly costume that was "too sexy". Meanwhile Katy Perry is one of the only shamelessly pro-value performers and celebrity personalities in the world today. She refuses to go anti-value even when anti-value is the fashion everywhere. But even more astounding are attacks like the one against a young schoolgirl who was sent home on school photo day because her hair style was considered too sexy and therefore "inappropriate". It's always important to remember that attackers of female beauty and sexuality are always attacking the beauty in what they attack, not the sexuality, no matter how sexual or how innocent the beauty they are attacking is. And when we see attacks on both ends of the female ethico-sexual spectrum that is when hatred of beauty has become a culture-wide phenomenon, as it has now. Female beauty (and women in general) are always scapegoated when times get tough and when economies collapse. Republicans, not women, are the ones who should be ashamed of themselves.
Photo Sizes: small | medium | large | extra