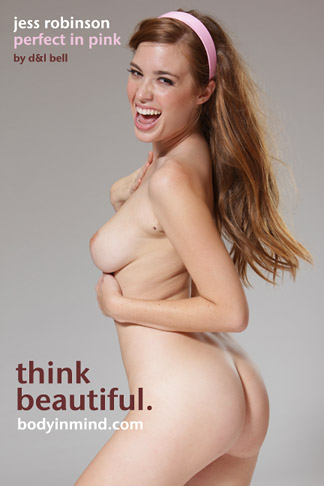 Steve says

on Fri, May 24, 2013 at 22:39:10
I'm with you...up to a point. Clothes, and the gradual removal thereof, can be fun, and enhance the shoot, building anticipation, and personally I love seeing a beautiful woman wearing non-glamorous, everyday clothing as a prelude to a reveal, and as a clue to the personality of the woman herself, but......the models you photograph are often so stunning, so physically perfect, that it can be frustrating to only see fifteen or so fully nude shots in a shoot of over a hundred. The bottom line is.....for many of us, rational, thinking men and women, we will be lucky indeed if we ever see women this attractive in any other state than fully clothed....hence the need for photography sites like yours to give us the opportunity...so don't be too mean with the all-nude shots...or too judgemental!
NEW! Add comments
Jess Perfect In Pink
110 Poster Size photos of Jess Robinson by D & L Bell
Added December 4, 2012
They say imitation is the highest form of flattery. If that's true, then BiM is just about blushing from all the praise. We are probably the most copied site out there, not only in our choice of models (the Page 3 girls were pretty much only found on Page 3 before we started shooting with them), our theme sets (two weeks after our set of Rhian playing Wii we found video from British lad mags showing girls playing Wii) and our idea of 'lifestyle nudes' (models nude in real life situations), which every site now copies but which we invented first. But perhaps the most telling example of sites imitating us comes from those sites that always claimed to be 100% nude. Guess what has started creeping into their photo sets? Clothes. A skirt here, a bikini there, bit by bit these so-called 'nudes only' sites are starting to discover what we've known all along; the presence of the right clothing can often make a model and photos of her more beautiful. This is because clothes are always a product of the mind and one's mind is one's spirit. Whether you enjoy a slow striptease, or whether you simply like seeing how clothes can emphasize feminine curves, it's clear that a spiritual viewer (one who thinks) isn't scared away by the addition of fabric. And now, it seems, all those sites who've pretended for years that men don't have minds and only want 100% nudity are learning the hard way that we've had it right all along. Frankly, we wonder what took them so long.
Photo Sizes: small | medium | large | extra