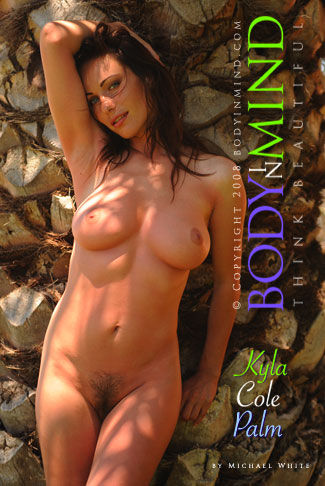 Mark says

on Sun, Aug 22, 2010 at 23:29:43
OMG! I can't get over how beautiful Kyla Cole is. Her breasts have perfect size and shape. I love how they look from the side too. And, with her close up head shots, I just get lost in her gaze...
NEW! Add comments
Kyla Palm
125 Super Size photos of Kyla Cole by Michael White
Added August 13, 2008
In ancient Rome, the palm tree was a symbol of triumph and victory. The Christians use it to symbolize victory over 'enemies of the soul', and in Judaism, the palm represents peace and plenty. Since the birth of human civilization itself, the palm tree has had a substantial effect on human life. The date palm provided food, shelter from the hot sun and driving desert winds, and nearly every part of the plant had some useful purpose. So how appropriate that BiM photographer Michael White chose to shoot renowned beauty Kyla Cole by a towering palm. She reminds us that beauty, too, is a symbol of triumph and victory, that it can defeat 'enemies of the soul', and that when life's gritty winds blow, there's no better shelter than the sight of a beautiful woman.
Photo Sizes: small | medium | large | extra