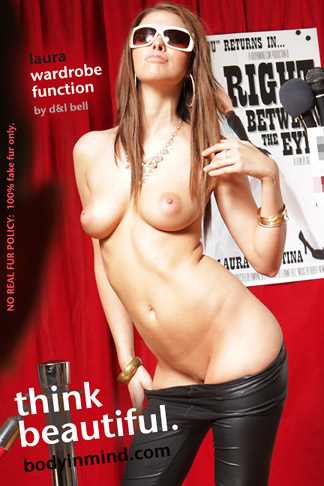 cfnmghost says

on Thu, Mar 3, 2016 at 7:16:42
this is one of my favourite story themed photo shoots on the net, love it! it brings all the best factors into play cmnf, nude in public, flashing, exhibitionism. would love to see more like this.
NEW! Add comments
Laura Wardrobe Function
129 Poster Size photos of Laura Christina by D & L Bell
Added April 26, 2012
You hear about all the time - some young Hollywood starlet arrives at a red carpet event and, in front of all the cameras, has an unfortunate 'wardrobe malfunction', or 'nip slip' as they're starting to be called. The strap of her gown will 'inadvertently' slip down her shoulder revealing a fleeting glimpse of nipple, or she'll bend over a little too far giving every newspaper editor his new front page image. It's getting a little too common to be truly accidental; in fact, it could be considered a shrewd business move on the part of any young woman who wants some publicity. Society frowns on nudity in general, but as long as you claim it was just an accident, you get a pass - and the attention of the world at the same time. We think women should be allowed to be open and honest about the allure of their bodies, and to use their beauty openly and to their advantage. If everyone secretly wants to see a starlet's nude body, why shouldn't she be able to show it off if she chooses, without having to hide behind the lie of a 'wardrobe malfunction'? Why shouldn't it be a wardrobe function instead? Why can't her clothing and jewelry and movie star glamor be used as a stage for her own beauty? Laura had some fun with this idea as a starlet at the premiere of her new movie and showed us what everyone was really there to see.
Photo Sizes: small | medium | large | extra