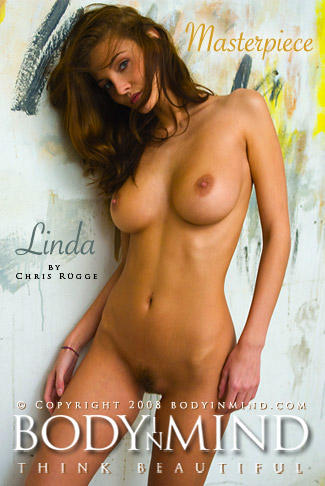 Lars says

on Sun, Sep 27, 2015 at 3:16:58
Ok wow! Linda is a very gorgeous and lovely babe! She carries a strong aura of glamour, confidence, mystique, and passion. Awesome! Her abundant shapely breasts go with her body shape and colors so well! Her larger foxy bush may be uncommon now but very fitting and attractive on her, and her torso! Her hairdo and scene just really sets off her lines and beauty!
NEW! Add comments
Linda Paint
37 Super Size photos of Linda by Chris Ruegge
Added January 10, 2008
The debate over the difference between art and porn has gone on for decades, centuries even, which kind of mystifies us because the answer is simplicity itself. Porn is a kind of art created to depict sexual subjects and themes, whereas art is created to depict a perfect world. Whatever the artist's or the pornographer's particular view of the world or sex is irrelevant. Porn can be anything from a woman taking sexual pleasure in displaying herself to depictions of actual copulation. And art can be anything from a child's drawing to Michelangelo's David. Nudity is NEVER a determining factor in classifying a work as porn or art. Only sex is. If sex is depicted, then it's porn. If not, then it's art. A simple rule of thumb is: is the depicted person visibly thinking about sex? If they are then it's probably porn; if not, it's art.
Photo Sizes: small | medium | large | extra