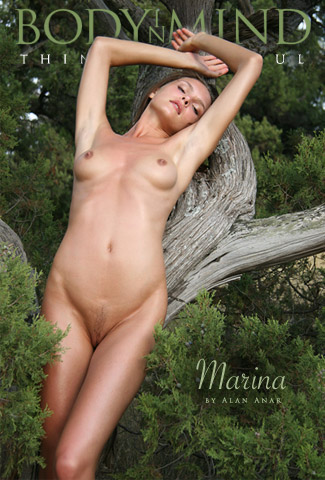 halopalm says

on Mon, Nov 29, 2010 at 13:41:43
Superstar of 2006 year, every set is classic and treasurable. As the name of this website, Marina will always be in my mind.
NEW! Add comments
Marina Tree
47 Poster Size photos of Marina M. by Alan Anar
Added January 31, 2006
For years we've been promising to reveal to our readers the difference between art and pornography. In his kind mention of Body in Mind, the liberal blogger Dean Esmay pointed out that there appears to be no difference betweem a lot of the nude photos on Body in Mind, photos which are often classed as porn, and what is widely considered the greatest work of art of all time, Michelangelo's David. Both display the human body as an object of admiration, drama and beauty. Nevertheless most people consider us porn and the David art. So what's the difference? Is there a difference? I'm just now editing my final draft on the subject and we'll publish it here in the next few days. In the meantime, enjoy this gallery of Marina, and ask yourself, is it art, or is it porn? And stay tuned to see if you're right.
Photo Sizes: small | medium | large | extra