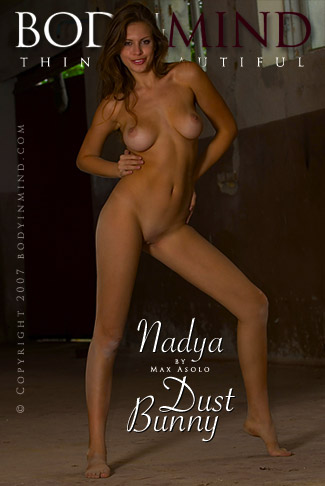 halopalm says

on Tue, Dec 14, 2010 at 0:35:44
Goddess of 2007 year. If she is the commander, I'd like to be her soldier. If she is the master, I'd like to be her slave. Nadya gives the hope what a man would die for.
NEW! Add comments
Nadya Dustbunny
73 Super Size photos of Nadya S. by Max Asolo
Added April 15, 2007
There's something very alluring about a beautiful woman's body lightly covered with sand, or in the case of our model Nadya, the powdery dust of a worksite. Think of all the Sports Illustrated Swimsuit issues featuring gorgeous women lounging in the sun with grains of sand lingering on their damp skin. Why is it so sexy? Maybe it's because the powder draws our eye to whatever shape it clings to, further accentuating an already beautiful body. Or maybe because it evokes playfulness - a time of laughter and lightheartedness at the beach, a messy day in the garden, even a DIY project and a smiling, dirt-smudged face. Nadya reminds of the importance of play, of getting grubby sometimes just for the fun of it, and how fun can sometimes be more beautiful than glamour.
Photo Sizes: small | medium | large | extra