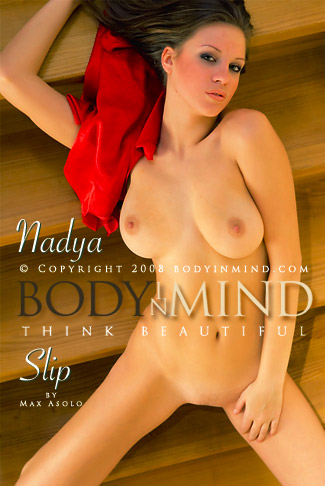 George says

on Thu, Sep 3, 2015 at 2:08:33
She's a hot babe alright, so sultry curvy and pert in all the right places! It's great to see her working down to fully nude, and what we see when she is!
NEW! Add comments
Nadya Slip
145 Super Size photos of Nadya S. by Max Asolo
Added July 8, 2008
Information is free. Or at least it should be. That's what we're told. The world wide web is a triumph for the democracy of information. Right? Wrong. The concept that everyone should have equal access to all data in the world is a very popular lie perpetrated by people who want everything to be free, so that they can sell it, a lie that appeals to consumers who want things for free, meant to take intellectual property away from its owners, declaring that freedom of information is a victory for the 'little guy' in the fight against greedy corporate giants. In fact, the truth is quite different. Most popular nude websites like Body in Mind regularly have all of their content stolen by file "sharers" and credit card defrauders who make money by posting these photos on myriad free image hosts like ImageVenue.com and Rapidshare.com. These image hosting companies then make lots of money from these stolen images either by charging a fee to the public to download them or by posting ads beside them for corporate giants like VISA, American Express, Johnson & Johnson, and Procter & Gamble, etc. The failure of the governments of the world to protect and uphold copyrights helps everyone make money off creative works, except the creators. Just as environmentalists want to destroy property rights so they can do what they want with land, so globalists want to destroy intellectual property rights so they and corporate giants can make money from someone else's creation.
Photo Sizes: small | medium | large | extra