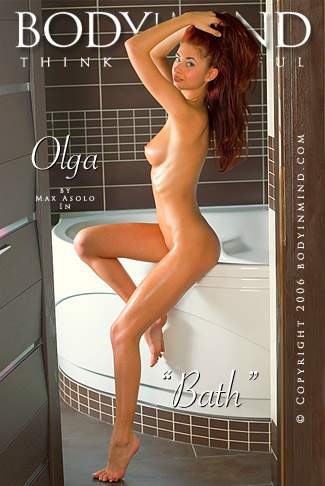 Mark says

on Sat, Aug 14, 2010 at 3:18:49
Olga M. is also known as Olya on some sites, like Arnold's Studio. The lighting is nice, as it defines her beautiful figure, and I love her natural red hair.
NEW! Add comments
Olga Bath
143 Super Size photos of Olga M. by Max Asolo
Added January 15, 2007
Body in Mind focuses exclusively on maximizing female beauty, and attracts the best photographers from all over the world shooting beautiful, non-sexual nudes. Continuing in the pinup tradition of the 40s, cheesecake of the 50s, Playboy of the 60s-70s and Supermodels of the 80s, Body in Mind re-introduced this focus to the 90s. Today Body in Mind consistently features the most uplifting, spirited, wholesome, non-sexual female nudes around. Not because there's anything wrong with sex, but because we believe that the other function of female beauty - to inspire men's imaginations - is more important. The beauty of women makes men dream, dream of love, dream of being better, and of a better world. We dream of beauty that can inspire men to change the world. We call it 'super beauty'. And that's why we always say BiM's nudes are more powerful than porn and more inspiring than art.
Photo Sizes: small | medium | large | extra




All Olga:

Olga_Bath


More models from our members galleries...