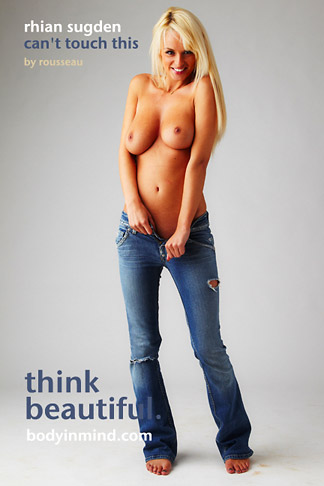 BeautyMotivated says

on Mon, Oct 8, 2012 at 17:56:34
Rhian is always wonderful. She is absolutely stunning. I agree that your pictures are better than those that can be found of her anywhere else, which reminds me that your updates have been absolutely outstanding for the last couple of weeks - and for the lifetime of the site ahem. I mean Rhian Sugden, Kelly Hall, Rachelle Wilde, Nikkala Stott, Peta Todd. I know it may sound archaic, but they are all legends, and their pictures are perfect for a hard day of work. Beauty motivates more than anything else in this world.
NEW! Add comments
Rhian Cant Touch This
71 Poster Size photos of Rhian Sugden by Leon Rousseau
Added September 28, 2012
We have some of the most beautiful women on the Internet here gracing the pages of bodyinmind.com. However, whenever we see their photos elsewhere we can't help but notice that ours are always better. The reason those wonderful women look their best on our site is that we do not hide our heads in shame as other photographers and publishers seem to do. We do know that beauty cannot be dissociated from morality, that every element in every set needs to be there for a reason. We do not throw a bunch of random props together and hope for a great-looking shoot, we meticulously choose everything that appears in every shoot, designed to suit the model herself, we have just the right amount of makeup, just the right mood - we are in control, and the result is always better photos. That's why we are always proud whenever we publish a new set of a woman as beautiful as Rhian Sugden. We know that we did everything to produce the most moral photos there are, and we know there is no other place in this universe that can match them. We hope you agree. :-)
Photo Sizes: small | medium | large | extra