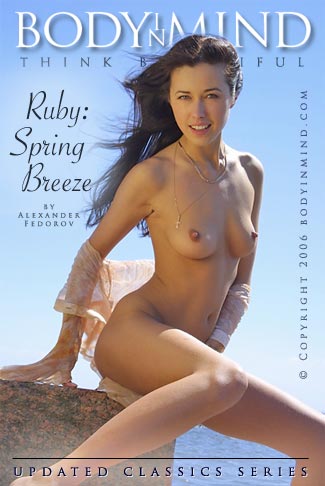 CanadianSteve says

on Sun, Dec 7, 2008 at 22:44:53
Wow, Ruby is absolutely stunning! sexy long dark hair, very pretty face, such perfect breasts with the most delicious looking nipples and her perfect bumm and legs. I find nothing sexier than perfectly shaped, small breasts with nipples that stick out. Also I find it refreshing to find such a super high quality girl not afraid to show her vagina, more of the models on this site need to take some notes from Ruby, THE WHOLE FEMALE BODY IS BEAUTIFUL, always you can remove your panties and still have beautiful, tasteful pictures. Thank you very much Ruby these 6 photo sets were worth my membership fee. I'm glad I found you, have you posed for other sites under the same name?
NEW! Add comments
Ruby
64 Super Size photos of Ruby by Alexander Fedorov
Added March 29, 2006
(UPI) MOSCOW In a bid to increase toursim to problem-plagued Moscow, city officials have announced a novel new tourist attraction: Beauty Week.
For the next seven days, scores of beautiful women will walk throughout the city completely nude. Gorky Park will serve as a kind of "Beauty Central", where visitors to the city are invited to talk with the women, pose for photographers or invite the women to model for photos of their own. In other parts of the city, the ladies will stroll through the streets, go shopping, dine at cafes... More...
Photo Sizes: small | medium | large | extra