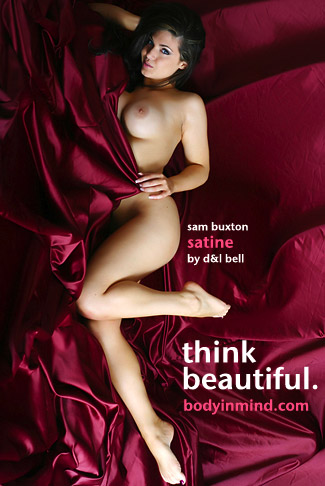 Nicholas says

on Sun, Feb 3, 2013 at 12:39:55
I don't like satin sheets in a bed, hate the feel of it. For her, I'd make an exception.
NEW! Add comments
Sam Satine
60 Poster Size photos of Sam Buxton by D & L Bell
Added December 11, 2009
In Hollywood of the 30s and 40s, every young actress posed for a similar photo. Lounging against a velvet or silk backdrop, highlighted by a single light source, hair styled in the perfect waves of the time, makeup perfect. These photos were probably commissioned by the movie studios, who took very seriously the notion that their movie stars had to be glamorous, beautiful and elegant. Compared to the hot mess most Hollywood starlets are today, it's easy to be nostalgic for a time when beauty was respected and strived for, when glamor was important and elegance made a woman that much more alluring. We've captured some of that long-ago style in this latest set of Sam Buxton, lounging luxuriously in a nest of satin, our version of the way those 40s glamor shots should have been.
Photo Sizes: small | medium | large | extra