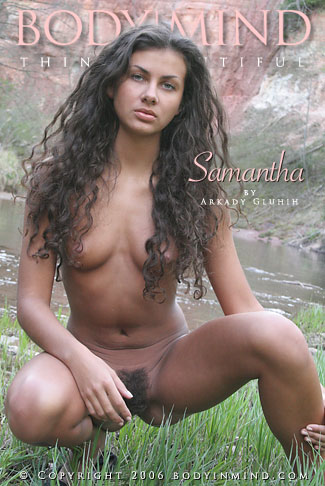 Nick says

on Fri, Jun 3, 2016 at 17:31:28
Wow Samantha your photo set shows you have a very intriguing stunning look and wild adventurous side! Your well tanned or naturally dark colors, fit body shape and torso especially make you look fun and hot. Also your bold photos are so awesome, especially how you present that amazing sexy black patch, nice!
NEW! Add comments
Samantha Cliff
137 Super Size photos of Samantha by Arkady Gluhih
Added May 25, 2006
There's just something about Samantha. Maybe it's the cool intelligence of her eyes, the casual disarray of her long dark curls, or the forthright way she displays her whole body to us while challenging us to look at her face. But whatever it is, she has it, that elusive combination of beauty, intelligence and sensuality that captivates our hearts and minds. Samantha seems totally comfortable naked on the edge of the world, as though she owns it, and totally comfortable owning her beauty too. Let her own you here.
Photo Sizes: small | medium | large | extra