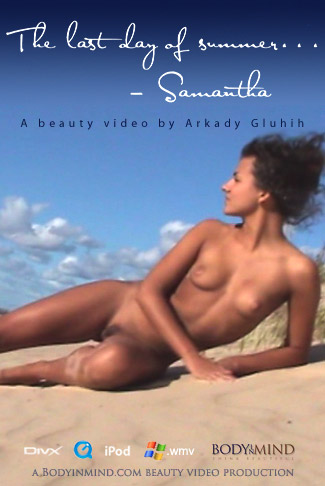 Nick says

on Sat, Jun 4, 2016 at 1:51:59
Samantha this is a sweet video scene for you, out in nature. Your confidence with your sleek bod nude and color is great to see, and your now trimmed feminine treasures look marvelous too, although the other way looks hot for you too!
NEW! Add comments
Samantha Summer
3:11 minute Video of Samantha by
Added January 27, 2009
One of the saddest - and most beautiful - days of the year is the last day of summer. And it's especially so when you run an art nude site like Body in Mind. That's because most of the models we are lucky enough to have pose for us are young ladies from Russia and the Ukraine, and each winter, most of them find a man to love them, marry them, and have babies with them. So, by the time spring comes our photographers are always telling us which girls are no longer modeling. For example, Samantha, one of the most naturally stunning girls we've ever worked with is from Latvia, and our shooter there, Arkady Gluhih, gave us some of the best photos and video ever taken of her. In fact, this video is the last thing they shot together for us. And it happened to be the last day of summer. Sadly, we have no idea where Samantha is now, if she's married or still modeling somewhere. All we know is there is nothing sadder than a woman just before she puts her clothes back on, unless it's a model posing nude for the last time. Happily, their beauty will always haunt the windy beaches of the world. And girls like Samantha will always be posing that one last time, here on Body in Mind.