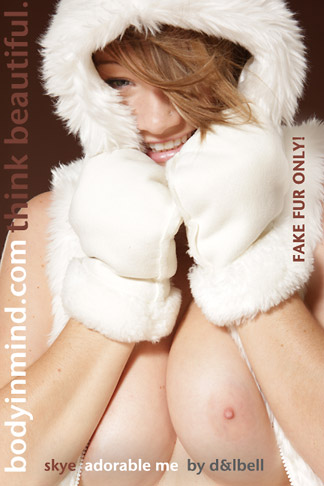 Lars says

on Mon, Feb 16, 2015 at 23:39:15
What a bod and FULLY nude too, she's definitely hot and a beautiful woman, a privilege to see fully nude. Thank you Skye!
NEW! Add comments
Skye Adorable Me
248 Poster Size photos of Skye by D & L Bell
Added November 22, 2012
We often come across model profiles in our work, and they almost always say the same sort of thing: "Don't let my cute smile/pretty face/adorable looks fool you, I might look like an angel but I'm really into dark, edgy, alternative stuff!" It's sad that these women don't understand how conformist they're actually being in their desperate attempts to be non-conformist. It's like getting a tattoo to be 'different'. How 'alternative' can you be if your tastes are exactly the same as everyone else's, if your version of 'cool' is only that which you've seen someone else do? And who doesn't delve into the dark side these days, in the name of 'coolness'? Well, we don't, for one. That makes us the true alternative. We're on the cutting edge of niceness, not nastiness. We wish more girls would embrace their adorable side. We wish they would revel in being cute or charming or just pretty (perish the thought). That's one of the reasons we love Skye - she's vivacious and adorable and happy and all the wonderful things a pretty girl should be. She doesn't try to hide her charm or pretend she's some goth goddess on the fringe. She's just happy being adorable. And we're so very happy that she is.
Photo Sizes: small | medium | large | extra