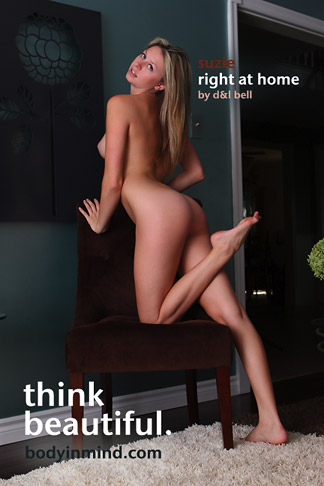 Mark says

on Thu, Aug 22, 2013 at 23:22:58
I absolutely love this set of Suzie! She is so fabulous and could not look more beautiful. It is wonderful that she is completely naked in every single shot. That is the best and most honest way to capture her beauty. Bravo to Suzie, she should be so proud of herself!
NEW! Add comments
Suzie Right At Home
107 Poster Size photos of Suzie by D & L Bell
Added October 1, 2010
"Come on in", said Suzie warmly, throwing her front door open wide and inviting us in. Her adorable little dogs yipped and wagged at our feet, excited to greet the new visitors. It was an ordinary afternoon, in an ordinary suburban home, and it might have been an ordinary social call, if it weren't for the fact that Suzie wasn't wearing a stitch of clothing. She had asked us to come over to her house for a photo shoot, and we had happily obliged - but even we were surprised that she had chosen to greet us wearing nothing but a smile. No matter how often we shoot beautiful nude women, no matter how many real-life situations we intentionally place them in, it's still a bit of a surprise to see a woman completely free and easy with her nude body like Suzie was that day. She gave us the grand tour of her home and as we got set up to start shooting, it occurred to us that there was no reason why she shouldn't greet her guests in the nude - she's beautiful, charming, and a delightful host, nude or not nude.
Photo Sizes: small | medium | large | extra