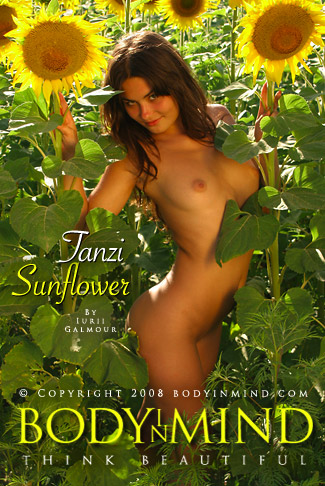 FemBeautyFan says

on Fri, Aug 6, 2010 at 14:53:45
This woman is so beautiful and innocent looking. Something about her face that just glows for me. I do wish she had slightly larger breasts, though. I have seen her on Arnold's Nudes also, with 1 gallery. Hope to see more of her.
NEW! Add comments
Tanzi Sunflowers
82 Super Size photos of Tanzi by Iiuri Galmour
Added October 3, 2008
Beautiful women are like sunflowers. They blossom in the sun, and they reflect back more beauty than they get. October is the time when sunflowers blossom into full bloom and then start to droop with the weight of their thousands of seeds. October is also the time when a beautiful woman's tanned body is most radiant, when our hearts skip a beat at the increasingly rare sight of a woman's bare skin, and when their beauty begins to droop and disappear with the weight of long pants, bulky sweaters, and even coats. We love October, and we hate October. We love it for maximizing the beauty of a nude woman, and we hate it for being so fleeting. If you haven't gotten your lady naked in a patch of sunflowers or a cornfield yet, do it this weekend. Her beauty is at its ripest right now.
Photo Sizes: small | medium | large | extra