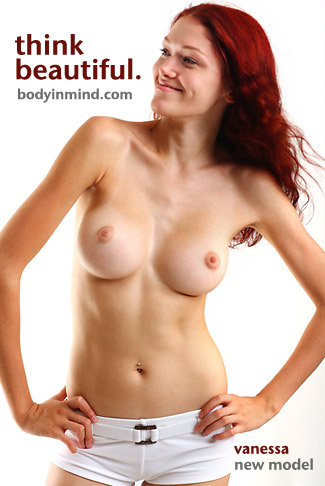 George says

on Sun, Sep 20, 2015 at 18:24:29
Yes! Vanessa has a smokin hot bod shapely bod, and sexy hot great boobs awesomeness! So right on! Her going boldly fully nude is tremendous too, yes.
NEW! Add comments
Vanessa Testshoot
145 Super Size photos of Vanessa by D & L Bell
Added September 2, 2009
We work with a lot of very beautiful women at Body in Mind. But very occasionally a model will walk through the door who is as lovely as a cool breeze on a scorching summer day, and as hot as the sun. Everyone smiles when they meet her. Everyone's day is suddenly a good one, they feel happier, younger, smarter. The beauty of a few women in the world has the power to change it. These are women who are gorgeous no doubt, but who also posses a rare wit and intelligence. Audrey Hepburn was such a woman. And Tyra Banks is another. Vanessa, who breezed through a 4-hour test shoot never losing her smile, her candor or her exuberance, even when completely nude, is such a lady as well. She is young and just starting her career, but we have no doubt this girl is going places. We just know that one day in the not too distant future, we will get to say, we knew her when...
Photo Sizes: small | medium | large | extra