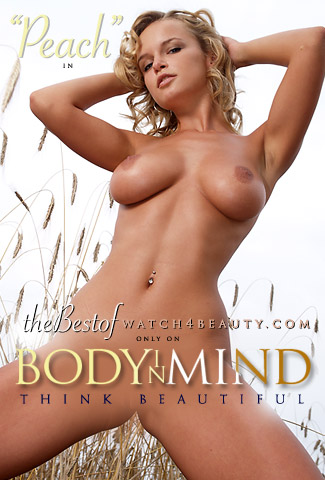 Lars says

on Fri, Feb 20, 2015 at 4:12:59
Wow, it MUST be said how some of the most amazing beauty shots of these extra gorgeous and HOT models are on these pages! Also, while BIM photo sets are beauty focused and rightly NOT focused on the common "private spot" photo sets of today, it is still great, lovely, and such a privilege to see how as in these photos as in 4,5,7,18,20 and 21 etc so much bold beauty is still presented of these hot ladies in all their glamor down below too!
NEW! Add comments
Watch4 Beauty.com
35 Poster Size photos of Peach|Marketa Belonoha|miscellaneous models by Watch4Beauty
Added February 3, 2006
A lot of people these days are trying to tell us that internet porn is out of control and are advocating that the government clamp down on it more and more. Nothing could be further from the truth. Things just don't work that way. Past attempts to eradicate porn in various countries have shown time and again that porn becomes only more and more depraved when governments illegalize it. The opposite is also true. The more free a country is, the more free speech is, the more positive and pro-value porn becomes. For example, in recent years, thanks to the government's inability to write a coherent anti-porn law, the internet has enjoyed almost total freedom, and in that time instead of seeing porn sites go hog wild into the depths of depravity we've seen the skyrocketing rise of the tasteful nude and/or erotic website - exactly what you'd think any well-intentioned government would want. These are sites where the focus isn't on sex at all but on tasteful nudity and artful eroticism. Body in Mind is one of the most tasteful of these sites, with zero sexual content, and a total commitment to beauty above all. Watch4Beauty.com is one of the newest of the erotic websites out there, a site where sexy poses are featured, but where it's clear at first glance that beauty and drama are as important as the power these photos have to arouse. This is one of the few sites we've seen lately with photos we'd actually describe as stunningly beautiful and brilliantly original.
In fact, good taste and beauty are now so prevalent in erotic websites that the govenrment's only plan of attack is to complain that children might happen across these perfectly legal, tasteful erotic images. Honestly, we fail to see how forcing us all back into a situation in which children might happen across tasteless and degrading pornography is better than this.
Thanks to our free internet, the modern movement towards tasteful nude art is making depraved porn sites both rarer and hopelessly old-fashioned.
Watch4Beauty.com is as modern, tasteful, and downright beautiful as erotica gets. Check out the sneak peak we've arranged for Body in Mind members here or check out the whole site at Watch4Beauty.com.
Photo Sizes: small | medium | large | extra