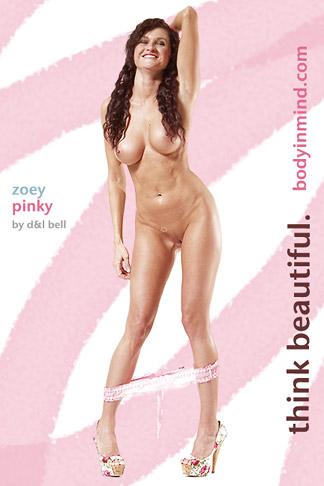 Lars says

on Sun, Feb 22, 2015 at 0:46:58
What a HOT sexy bod, looking totally fit firmed and tuned, in such a hot fully nude set! So many nice poses props and setting. Such bold full frontal views with her long legs and "heart" are awesome!
NEW! Add comments
Zoey Pinky
81 Poster Size photos of Zoey by D & L Bell
Added January 16, 2013
Remember Pinky Tuscadero? No? Ask anyone over 40 who she is and they'll tell you that she is the Fonz's girlfriend from the old Happy Days tv series. The Fonz was hands down the coolest dude - ever. "Cool" in the 1950's meant you wore a leather jacket, rode a Triumph motorcycle, and you got all the chicks. In fact, all the Fonz had to do to have chicks crawling all over him was snap his fingers. It was meant to be humorous and it was. But it became serious when the Fonz finally met his match in a woman, Pinky Tuscadero. She wore a pink leather jacket, rode a pink motorcycle, and was the toughest chick in town. She was most definitely NOT every guy's dream woman. But she was the Fonz's. Today we want you guys out there to consider finding your own Pinky Tuscadero. No not the Fonz's Pinky, yours. Instead of trying to attract women by being a drone who is considered "cool" by today's standards, try finding a woman who suits you uniquely the way Pinky suited the Fonz. If you're an artist find a girlfriend who is an artist rather than an art model. If you're an athlete find a girl who plays sports, not a cheerleader. If you're a mathematician, find a woman who loves numbers for their own sake, rather than a woman who only counts money. And if you're a businessman, find a businesswoman. Trust me, when you find the woman who is just like you sparks will fly. But finding your perfect match will take more than snapping your fingers. It will take a mind shift. Are you cool enough to do it? The Fonz was.
Photo Sizes: small | medium | large | extra