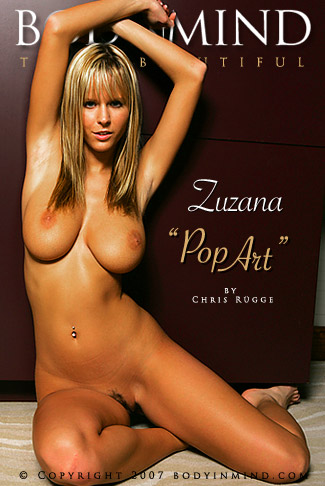 John says

on Sun, Dec 30, 2007 at 17:36:17
It is always a pleasure for me to send high compliments to BinM. The last three series were exceptional. One reason Ii would give is, not only the beauty of these girls but the comparison of each one to the others. Zuzana and Tracy are the ultimate in full breasted, aloof, almost untouchable girls. Diana, by comparison has small but beautifully rounded , breasts and has a delightful smile - in spite of the snow which I would think would require unbelievable courage to expose her nude body. As I have said before, it is not fair to praise one above the others but I just have to say, the beautiful variety of poses in the series on Tracy is outstanding. High praise to all the models and their photographers.
NEW! Add comments
Zuzana Pop- Art
90 Super Size photos of Zuzana Drabinova by Chris Ruegge
Added March 22, 2007
Body in Mind focuses exclusively on maximizing female beauty, and attracts the best photographers and models from all over the world shooting beautiful, non-sexual nudes. Continuing in the pinup tradition of the 40s, cheesecake of the 50s, Playboy of the 60s-70s and Supermodels of the 80s, Body in Mind re-introduced this focus to the new millenium. Today Body in Mind consistently features the most uplifting, spirited, wholesome, non-sexual female nudes around. We call them 'super nudes' - nudes with many values added. And who better to grace our pages than the topless tabloid super models who are so popular in the UK? First came Nikkala Stott, then Michelle Marsh, Peta Todd, and then Zuzana Drabinova, featured in today's gallery by Chris Ruegge. Enjoy them all, as nude as they get, regularly on Body in Mind.
Photo Sizes: small | medium | large | extra