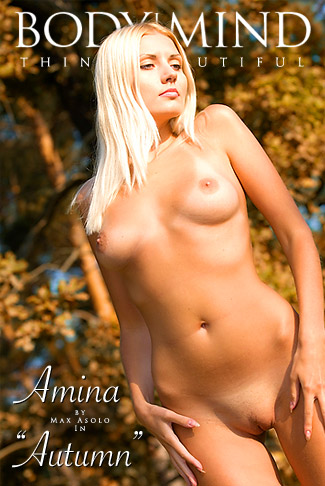 Mark says

on Fri, Aug 20, 2010 at 1:29:50
Image 001 shows her frontal figure so well. She looks so firm-soft and curvy, at once. 062 completes her figure, with her sexy curved butt. Even her bare back is sexy. Her shoulders, her arms, oh and of course her face. Shes perfect!
NEW! Add comments
Amina Autumn
83 Super Size photos of Amina by Max Asolo
Added November 4, 2006
The last sunny day of summer can be a sad time, perhaps the last time we will see beautiful young women nude or nearly nude in the real world until spring warms up the world again. But it's not a sad time at Body in Mind because we believe women look great nude all year long, especially next to the awesome magnificence of nature in all its seasons. We shoot our lovely ladies all year, rain or shine, in freezing snow or sun baked sand. In fact, Body in Mind pioneered things like winter shoots and autumn nudes like these of Amina by Max Asolo. We were doing these when most photographers told us they were impossible, that models would never do it. Now these same photographers are doing them everywhere now, and all year nudes are the norm. Our gift to you. Body in Mind creativity: always original, always copied, always beautiful.
Photo Sizes: small | medium | large | extra