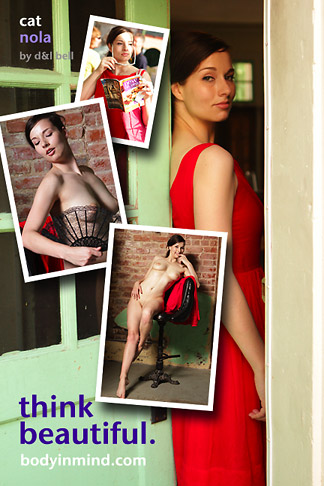 Wanderlust says

on Tue, May 17, 2011 at 19:58:32
This was Cat at her most radiant and beautiful. One of her and Body In Mind's best works. I really enjoyed the New Orleans setting and that red dress. I really liked Cat 004, 011, 27, 29, 37-50. The lighting and golden tones in 051-62 and 099-102 were brilliant. Looking forward to her next set.
NEW! Add comments
Cat Nola
113 Poster Size photos of Cat by D & L Bell
Added May 16, 2011
Before Hurricane Katrina, New Orleans had a long and lush history, vibrant with jazz and colourful shotgun houses, with beignets at Cafe du Monde and wrought iron trellises overlooking Bourbon St. That same smooth vibe is still there, in the easy smiles and lilting speech of the people who still call the Big Easy home. Walking through the French Quarter with Cat, past the voodoo shops and po-boy restaurants, letting the humid spring day slow our pace, it was easy see how the charm and grace of this old city seeps into the soul. Nola was a natural place for Cat to show off her sensual side too, slipping inside to take refuge from the heat and cooling off in her own beautiful style.
Photo Sizes: small | medium | large | extra