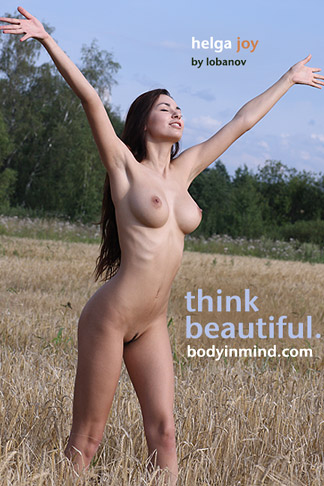 Lars says

on Fri, Jan 23, 2015 at 3:22:50
Helga you are gorgeous, and amazing to look at from EVERY angle! Its nice too you have your long dark hair AND gave us so many hot full-frontal views with ALL your sexy glamor! Live well!
NEW! Add comments
Helga Joy
162 Poster Size photos of Helga by Alexander Lobanov
Added February 18, 2013
Why are beautiful non-sexual images of young women becoming rare these days? Believe it or not it has a lot to do with file sharing and file download services that operate outside the law. It is crucially important that any human society get it right when they decide what is or isn't illegal in their industries. When they get it wrong and allow criminal behaviour into any industry - such as the rampant theft they have allowed in the entertainment industry - then that industry begins to attract only thieves and criminals. For example, if murder was made legal in farming, would the most successful farmers be the ones who grew the most food or would it be the ones willing to kill other farmers and take their crops? Similarly, when a government allows a crime such as theft to be legal in the entertainment industry, then the person who succeeds in that area stops being the most talented, creative, ingenius, innovative or hardest working, and instead becomes the biggest thief or criminal organizations. Due to the lack of workable laws file theft is rampant in the entertainment industry today, from movies to photography, and most countries are reacting by passing laws that protect the thieves, not the victims. This is why innocent nude images are disappearing on the web. Do you really think images of joy are a priority for thieves and criminals? Have a look around the internet and count how many images you see of women having sex - or wanting to - versus how many images like these ones of Helga truly enjoying being a beautiful young woman you can find, and you will see that when you rob others of their intellectual property by sharing or downloading files illegally you are really robbing yourself of joy.
Photo Sizes: small | medium | large | extra