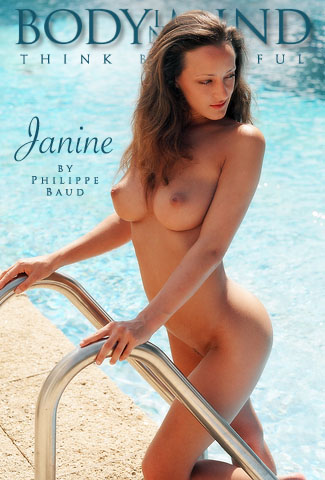 Larz says

on Fri, Mar 20, 2015 at 14:28:13
Wow Janine! What an amazingly hot babe head to toe! Your one of the most lovely ladies fully wonderfully nude on BIM ever! You have such amazing sexy looks, everywhere
NEW! Add comments
Janine Pool
35 Super Size photos of Janine by Philippe Baud
Added January 7, 2006
Body in Mind focuses exclusively on maximizing female beauty, and attracts the best photographers from all over the world shooting beautiful, non-sexual nudes. Continuing in the pinup tradition of the 40s, cheesecake of the 50s, Playboy of the 60s-70s and Supermodels of the 80s, Body in Mind re-introduced this focus to the 90s. Today Body in Mind consistently features the most uplifting, spirited, wholesome, non-sexual female nudes around. We call it 'super beauty'. Join Body in Mind for non-sexual nudes that are more powerful than porn, and more uplifting than art.
Photo Sizes: small | medium | large | extra




All Janine:

Janine_Pool


More models from our members galleries...