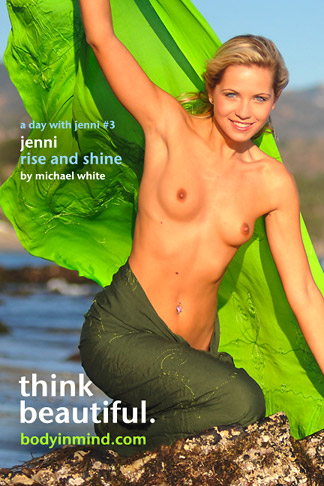 Gizmo says

on Sat, Oct 27, 2012 at 14:36:12
Gorgeous as usual, I wish I had the privilege of shooting her one day, I'd show you how to capture all of her beauty in every way...gorgeous, simply gorgeous.
NEW! Add comments
Jenni Rise
112 Poster Size photos of Jenni by Michael White
Added July 9, 2010
It's still early when Jenni slips off her shoes and feels the soft squish of sand between her toes. This morning in Malibu is like so many others - runners in the distance, gulls arcing overhead, the magnificent shoreline hinting of the glamor of Los Angeles just a stone's throw away. She loves it here, in this quiet enclave. She runs along the beach, letting her green silk scarf dance in the wind as she leaps and frolics with childlike abandon. The sun kisses her skin as she stands naked on the rocks, letting the sea air catch her wrap and billow it out behind her like a sail. She dips her toe in the water, so crisp and cold on this fine morning, and kicks to feel the water splash up and tickle her legs. This must be heaven...
Photo Sizes: small | medium | large | extra