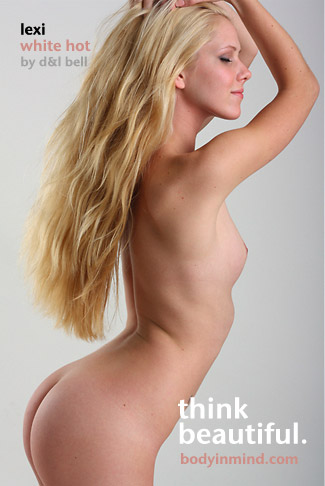 localfiend138aimcom says

on Mon, Oct 12, 2009 at 13:42:21
Lexi is absolutely THE most beautiful girl i have ever viewed on your site! And any other nude art site actually. I would love it if you guys continued to work with her. She is worthy of buying a membership for. The previews i have seen for White Hot are especially stunning, and she is gorgeous in Sitting Pretty as well. Just, WOW.
NEW! Add comments
Lexi White
183 Super Size photos of Lexi by D & L Bell
Added August 29, 2009
How do we know which models to shoot? We place a casting call notice and receive countless applications, many from women who have a nice face or long legs or gorgeous breasts but who, for some reason, don't make the cut. And we've been asked what it is that makes us say "Yes - we've got to shoot her for Body in Mind!" The answer is simpler than most people think. Beauty. We know if a woman is beautiful or if she's just pretty, if her body is spectacular or just average, if she has a sparkle or hides her light under a shade. We know by the way her back curves out gently, by the way her hair cascades down her back, by the fullness of her breasts and the line of her thighs. We know by the genuineness of her smile, by the glint in her eye. We know by her beauty. And since we love and admire beauty so very much, we accept nothing less from models we shoot. Lexi is just such a beauty - nude, against stark white, with nothing to hide behind or nothing to improve upon, she is the perfect example of how we know she's the kind of model we love to shoot. Wouldn't you?
Photo Sizes: small | medium | large | extra