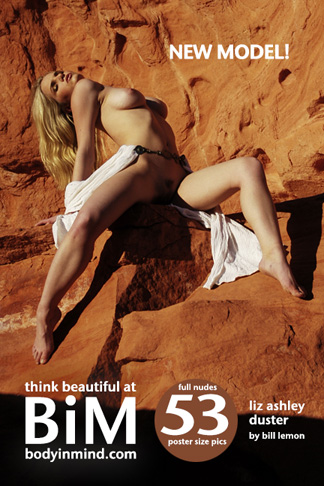 lars says

on Wed, Jan 7, 2015 at 18:24:03
So hot! Not just the desert scene no it's you Liz! Pix 12 and 15, many you look awesome sharing your beauty. The pix are a little distant but you look great in every way.
NEW! Add comments
Liz Desert Duster
53 Poster Size photos of Liz Ashley by Bill Lemon
Added April 6, 2014
When asked why we need art, famed art historian Sister Wendy replied "Art makes us more human." Considering her own love of art transformed her from a cloistered nun to an internationally renowned broadcaster, openly discussing the erotic energy of a nude paintings is proof of that. Can the same thing be said of human beauty? If the beauty of art can make us more human, cannot the physical beauty of the human nude do so as well? Couldn't this be the reason our culture is obsessed with images of beautiful women? Cynics say "sex sells". But is this really the full explanation? No. Images of beautiful women date back to pre-history, and aesthetics, the science that studies the role of beauty in our lives has been a part of every serious philosophy since the ancient Greeks invented it. The BiM aesthetics for example says our values, the things we want in life, the things we want to be and the things we want to have, create the experience of beauty in our brains for the purpose of motivating us towards them. Animals have instinctual values - they know what is good & bad for them automatically. We humans do not. We have to choose what is good or bad for us. Instinct cannot help us, but beauty can. Beauty is a sort of glow around the things we love, around our values, that makes our actions & purpose in life more clear. This is how art makes us more human. And it's how female beauty does too. Beauty inspires good people to admire it and to be better. Unfortunately it also inspires bad people to be worse, to hate beauty and attack values. There is perhaps no more depraved question a person can ask than "Why do we need beauty?" Art, human beauty, aesthetics are all fundamental parts of what it means to be human. To dismiss artistic images of human beauty as merely sex inducement is to completely miss the value and beauty of female beauty itself, and is to miss out on being fully human.
Photo Sizes: small | medium | large | extra