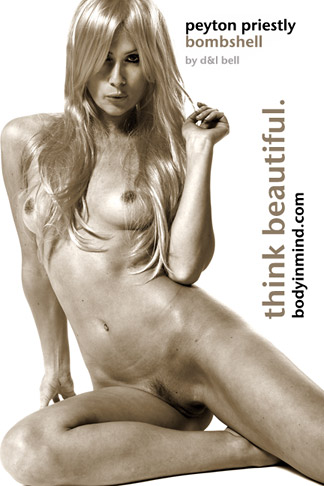 George says

on Sun, Aug 9, 2015 at 20:58:47
Sexy girl, in an unusual photo set indeed. I agree the wig could go away but hey the photo set is art. On that note Peyton is art too. She has a hot sport-fit girl shape and tan lines are nice. Her cute little bush is a great contrast, glad she didn't go Brazilian for this.
NEW! Add comments
Peyton Bombshell
98 Poster Size photos of Peyton Priestly|Ashley Perry by D & L Bell
Added February 1, 2013
Every woman has an inner bombshell. For example, one of the reasons Marilyn Monroe, Brigette Bardot, and Fergie from the Black Eyed Peas are so popular is not just because men love how sexy they are but because women love it too! These celebrities were and are exceptionally talented at letting their inner bombshells out, and they make women all over the world wish that they could do it too. As photographers, our goal is always to make our models as comfortable as possible so that they too might let their inner diva shine. Sometimes it works and sometimes it doesn't. Women are so often chastised in the modern world for being sexy or sexual that few are willing to do it at all, let alone with the exuberant self-embracing abandon that makes everyone, men and women alike, stop and watch with a wistful smile and a pleasant longing for the kind of self-love and bravery it takes to enjoy one's own nudity and sexuality in that way. Perhaps this is why the women who do it are affectionately called bombshells. All it takes is one explosive moment of glorious self-expression for all of our tired reasons for not being sexier to shatter and our morbid seriousness about sex to disappear in a puff of smoke. Somehow we achieved just such a moment with Peyton Priestly on our most recent shoot with her. Normally a reserved but happy girl, Peyton suddenly threw off her inhibitions and vamped for the camera as we've never seen her do before. For those too few moments Peyton was a total bombshell in the full meaning of the word, and we are all lucky sons and daughters of bitches to live in the same world with such beauty.
Photo Sizes: small | medium | large | extra