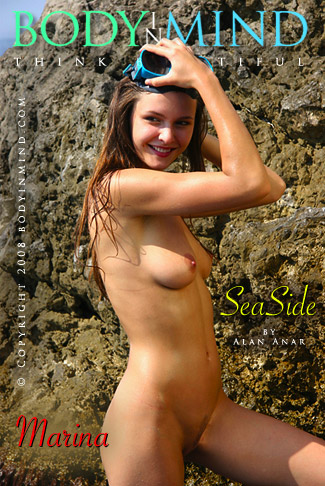 DavidM says

on Thu, Apr 2, 2009 at 2:10:54
Marina is the first and only woman I have ever commented about on any web site. I saw a photo of her fashion modeling a few years ago.......to me she was the prettiest woman I had ever seen. As beautiful as she is from head to toe......to me, it is still her eyes and smile that make her the perfect 10. Marina could model anything, anywhere, and look great doing it. She is definitely my favourite model/actress......I hope she continues working for many, many, years. I wish her the best of luck in all she chooses in life.
NEW! Add comments
Marina Sea Side
76 Super Size photos of Marina M. by Alan Anar
Added February 27, 2008
Imagine a world where a woman being nude was no big deal. Mothers didn't freak, preachers didn't preach, and sex fiends didn't attack. Then every day would be just a nice sunny day at the beach, with no worries and no thwarted expectations. A lady could be as nude - or not - as she wanted to be, and we, her trusted friends and admirers would bask in her beauty as we do in the breezes of summer. But to have such a world requires us to see female beauty as a glory of mankind, not a small shameful secret. We must respect a woman and have reverence for her beauty if we want to entice her out of her shell. And that will take a love of women, beauty, mankind, and ourselves, bigger than an ocean. We invite you to take a dip with us in that ocean, in this set of Marina sea side.
Photo Sizes: small | medium | large | extra