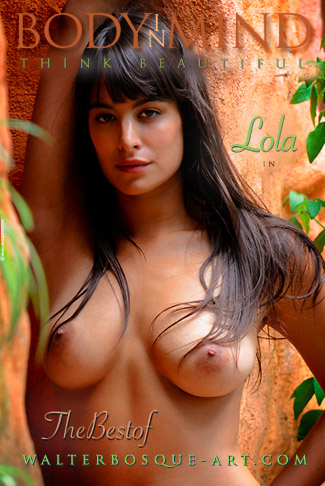 Lars says

on Mon, Apr 6, 2015 at 1:53:36
Lola, many of us guys writing here agree, you are SO very lovely and have such a womanly figure, your so sexy! Also in this set it's a really vibrant color fit for you I feel, and even better it's so kind of you to share ALL your lovely features, tummy, torso and your "jewelry area!" Outstanding!
NEW! Add comments
Walter Bosque- Art.com
44 Super Size photos of Lola by Walter Bosque
Added November 12, 2008
They have beautiful women in Argentina who are not afraid to pose nude. Who knew? Walter Bosque, that's who. When we try to picture Walter we get the image of a South American mountain man, venturing high into the Andes to find those places of timeless sacred beauty. We imagine finding beautiful women to pose happily nude in Argentina is just about as arduous, and lonely. But also just as rewarding when you find that fountain of youth that is female beauty. We admire Walter Bosque, and we all owe him thanks for pioneering nude photography in his part of the world. But mostly we are lucky to be able to enjoy the photos of native Argentinian women he has brought to the world. If you like this set of Lola, visit WalterBosque-Art.com for lots more.
Photo Sizes: small | medium | large | extra