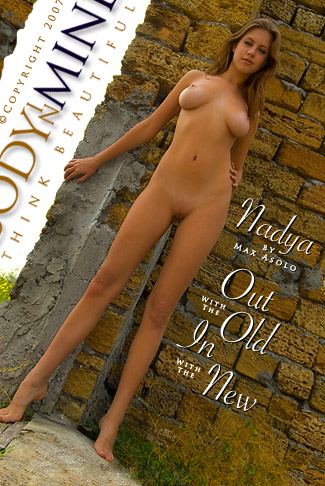 halopalm says

on Tue, Dec 14, 2010 at 0:27:36
Goddess of 2007 year. If she is the commander, I'd like to be her soldier. If she is the master, I'd like to be her slave. Nadya gives the hope what a man would die for.
NEW! Add comments
Nadya Ruins
51 Super Size photos of Nadya S. by Max Asolo
Added December 28, 2007
One thing we hope to see in the year 2008 is some truly new ideas in female nudes. It is our view, due to the ingeniousness of the human mind, absolutely anything can be explored forever. Even something as mundane as the weather held new discoveries about climate change for those who cared to look. How many more exciting secrets then does female beauty hold? It is infinitely more exciting than the weather, yet so often today it is treated as nothing more than sex. Body in Mind would like to see this idea go out with 2007, and we look forward to truly innovative new discoveries about female beauty, perhaps the most bountiful and unexplored of all human mysteries. How appropriate our first gallery of 2008 should be one from truly innovative BiM shooter, Max Axolo, of stunning new natural beauty, Nadya. New is good. But true makes it even better.
Photo Sizes: small | medium | large | extra