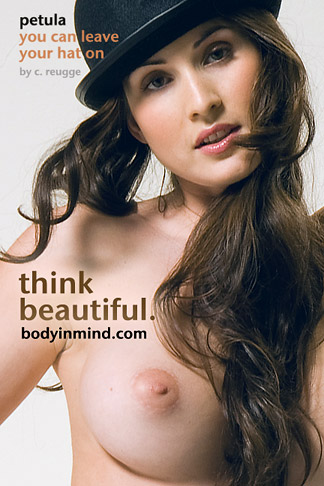 Lars says

on Tue, Apr 7, 2015 at 2:45:50
Petula, wow your amazing! Your so nicely stacked with great boobs and a whole - body perfect balance! It's true you have all great curves too, and that recently shaved patch on your sexy torso, well lets say you can make a guy rise pretty fast!
NEW! Add comments
Petula Hat
60 Poster Size photos of Petula by Chris Ruegge
Added July 20, 2013
Even though Page 3 is probably the most innocent form of female nudity in the world, and even though it has found its way into millions of family homes throughout Britain without destroying children or the moral fiber of the country as a whole, those who hate Page 3 are now claiming that it is pornography, simply by virtue of the fact that Page 3 features topless women. In their minds - but certainly not in reality nor in the minds of most people - a woman's body has only one purpose: sex, so for them it follows that showing her body has to be sexual. These people who claim nudity is sexual by definition not only lack imagination (since there are any number of non-sexual reasons for a woman to be naked) but must lack sex lives as well (since generally sex involves a little more than simple nudity). But in the name of accuracy and loyalty to all the innocently nude women out there, we've taken it upon ourselves to point out that sex is not the only purpose of Page 3, or of the female body in general. Off the top then, a few of the perfectly innocent reasons a woman might be naked? Well, let's start with: Fun. Beauty. Art. Inspiration. Dance. Freedom. Swimming. Sleeping. Sunbathing. Protest. Self-expression. Innocence. Joy. Medicine. Teaching. Examination. Fashion. Naturism. And there's likely lots more. As it is, we'd say Page 3 involves more than half of those. And you know, while we were writing this we were trying to think of any other modern publication or media in which nude women were presented more innocently, and non-sexually, than they are on Page 3. But we couldn't think of a single blessed one. Can you?
Photo Sizes: small | medium | large | extra