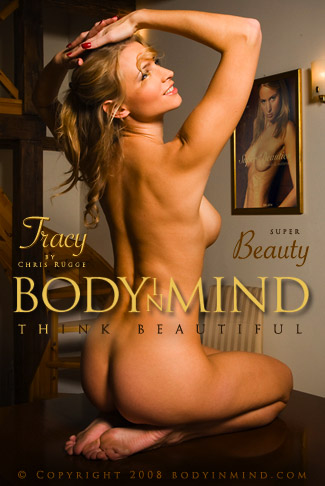 George says

on Fri, Oct 9, 2015 at 4:00:58
Tracy you are so wonderfully pretty and beautiful looking all over! Of all models on BiM your face and hair are among the very most lovely! Your body shape, skin, and sexy breasts all look so wonderful!
NEW! Add comments
Tracy Beauty
34 Super Size photos of Tracy by Chris Ruegge
Added November 4, 2008
In the 1960s the movies were full of them. In the 70s they were TV stars; in the 80s they were supermodels. And in the 90s, they were making porn. But today, in the first decade on the 21st century, a true super beauty is the rarest thing in the world. The women who knock our socks off seem to have disappeared. Well now they're back, in a beautifully bound hard cover book from Body in Mind. 364 pages of the most superbeautiful women we've found in the 10 years we've been online: Nikkala Stott, Peta Todd, Jewel, Britney, Klaudia, Nadya, Linda, and of course, Tracy. And many more. Order your copy from Amazon today. It's your own permanent stash of super beauty.
Photo Sizes: small | medium | large | extra