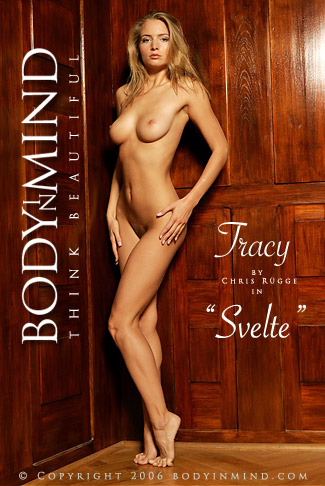 DavidM says

on Mon, Apr 19, 2010 at 19:53:00
It's not that altruism is bad by itself, it is that it is bad without balance. The universe is composed of opposing forces. All negative or all positive are both bad - life would not exist either way. Selflessness and selfishness must exist together, but in balance. When you make love to a woman, you pleasure both her as well as getting pleasure yourself. When you just have sex, you are only interested in yourself (and rape is the ultimate in selfishness).
NEW! Add comments
Tracy Wood
72 Super Size photos of Tracy by Chris Ruegge
Added December 8, 2006
Since the beginning of time, mankind has been told that sex is dirty, immoral, and depraved, and that female beauty, as the thing that inspires men to desire sex and indulge in it, is the evil that is responsible. In fact, the thing responsible is not female beauty, but altruism. Altruism is the moral philosophy that tells us selfishness - desiring values for one's own sake - is wrong. And since sex is a purely selfish value (can you imagine having sex purely out of charity?) it is condemned by altruism and altruists as an ultimate evil. If you've ever wondered why sex is so widely considered dirty, now you know. But sex is not immoral, and only those who damn men for pursuing happiness think so. It is a tragedy of the ages that altruism, a philosophy opposed to human happiness, has become so prevalent, and that sexy women like BiM model Tracy, a woman proudly, beautifully without guilt, are so rare.
Photo Sizes: small | medium | large | extra