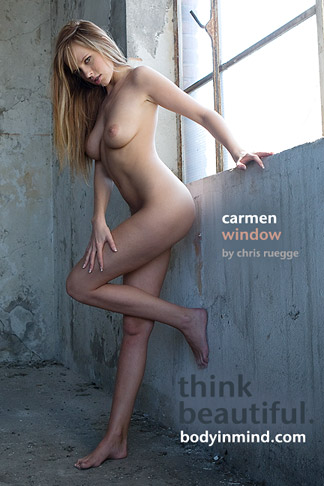 Mark says

on Wed, May 8, 2013 at 2:38:57
Carmen is perfect buck naked! She looks absolutely beautiful! Boy, do I love Carmen's amazing hourglass hips! So gorgeous!
NEW! Add comments
Carmen Window
58 Poster Size photos of Carmen by Chris Ruegge
Added March 26, 2013
It's amazing what you can see when you actually look. It's an undeniable truth about we human beings that we see what we want to see, and miss the rest. And it goes without saying that if we use only 10% of our brains that we see only 10% of what there is to see in the world. And perhaps this is natural, since simple survival was such a challenge to our caveman ancestors that our brains are wired to see what matters most to us and disregard the rest. But physical survival has been made so much easier these days that our brains have been freed to perceive a lot more than we usually do, beyond our material needs and into the realm of the spiritual. We are able to see things like love, justice, beauty, and even awareness itself. It's no coincidence that science is now discovering that animals are much more aware and sentient that we ever noticed before. We no longer need to see them as food or clothing so we are free to see them more clearly and accurately. The same is true of anything you feel is lacking in the world, be it kindness, creativity, or purpose. They are all there in plain view just as they have always been, but we are still so often blinded by our fear, prejudice, and laziness - all habits that might serve cavemen well, but not us. So the next time you look out of a window or look out over the world just remember you can choose to see what you want to see, and it will likely be there. The world is that cool.
Photo Sizes: small | medium | large | extra