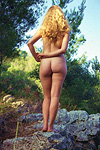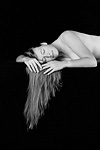 Pаіntеd Lаdіеs
Dutch photographer and painter, Amіt Bаr, first contacted us many months ago with the following email:
"Dеаr Edіtоr, I have seen your beautiful site, and wish to expose my work on it. With kind regards, Amіt Bаr."
Needless to say we were thrilled that such an accomplished artist wanted to be a part of Body in Mind. We love the rare mixture of frankness and softness in his matter-of-fact artistic nudes, a mixture that made his images seem truly pretty without affectation, in the same way that some women wake up beautiful, without effort. But we soon noticed that there was no softness in our favourite photographs of his, no blurry effects, no soft-focus of any kind. The gentleness it seems, was wholly in Amіt Bаr himself, and in his precisely pretty vision of women, and the world.
Born in 1950 in Kіbbυtz Kfаr Hamaccabi, Israel, Amit studied art and comparative literature at The University of Haifa before becoming a freelance-photographer and painter in Doetinchem, Thе Nеthеrlаnds, but the sincerity of his love for the beauty of women became evident in his subsequent work. You see, all artists who love female beauty eventually mature to the point where they create images that depict beautiful nude women in harmony with the world around them, which is the way they want to see them, the way they wish it always was. Each artist finds his own way to do this, a way that is decided by his own individual character, and the degree of his talent and insight. For example DaVinci painted the Mоnа Lіsа sitting in the studio in formal clothes but with a natural backdrop. Gυstаv Klіmt painted women entwined in the patterns of expensive fabrics which were in turn entwined with nature. Amіt Bаr has found his own way to represent beautiful nude women as a natural part of reality, as a real part of nature, a way that combines his skills as a painter and a photographer. Amіt Bаr paints his women - literally. He paints on his models bodies and then photographs them in settings where the painting on their bodies blends with their surroundings. The result is some remarkable images of nude women who obviously feel free and fulfilled expressing their beauty, the way we wish all women felt, always.
This is the art of Amіt Bаr. Not that he paints backgrounds onto women's bodies in his photographs, but that he paints the beauty of women into the foreground of our lives.
We liked his work so much that we've just added 10 of his soft, quiet, pretty nudes to our galleries. Our beautiful site, just got more beautiful, thanks to Amіt Bаr.
Sample | Join | Members | Link
Or click here to visit Amіt Bаr's website.